Again with the pajamas, I know! But that's what he needed. I also had this animal fabric laying around since 2005 and needed to do something with it or get rid of it.
I've had a little less time this week, Travis is now in a toddler bed. Some of the time he lays right down and goes to sleep, other times he runs out of bed, and I put him back, and this pattern goes on until he passes out from exhaustion! He's one determined little bugger.
Here he is helping take the crib apart with his toy drill.
----------------
linking up to this today: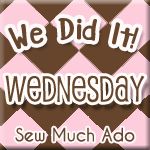 Right now I've got a few sewing projects going on. When Travis goes in for his nap I'm not sure what to work on! I'm thinking of making some gifts for the kids to put away for Christmas. I'll have to work on those secretly. For Maura I've been meaning to make
Clucky the Chook
, so that's in the works. I'm thinking Travis would like some quilted letters, so I started on those too. I'll post the pictures as I complete them. It may be a little while because I just ordered even more new patterns and I'm having idea overload at the moment. See you soon!